Israeli military activity is reported in Lebanon Saturday, May 4 and not just over Syria.
US sources said earlier Israeli warplanes had struck targets in Syria including a chemical weapons depot outside Damascus, firing missiles remotely from Lebanese air space and the Golan starting Friday and continuing up until early Saturday, May 3. An Israeli spokesman confirmed only an air strike in Syria against a shipment of long-range surface missiles.
The latest reports from Lebanon point to expanding Israeli military activity inside Lebanon as well.
They describe Israeli warplanes as flying "at a medium altitude over the Eastern and Western Mountain ranges of the Beqaa Valley."  debkafile: Hizballah strongholds are located in this region which is close to the Syrian border. Other warplanes were described as heading north over Beirut.
One Lebanese source claimed Israeli ground troops had descended from the Mt. Dov-Hermon range, crossed the Lebanese border and entered the Shebaa Farms region.
None of these reports are confirmed by Israel, Lebanon or Syria. But debkafile notes that if Israeli troops have indeed penetrated Lebanon to a depth of 5-7 kilometers and reached the Shebaa Farms, they have taken up positions opposite the 30 Syrian Shiite villages guarded by incoming Iranian elite Basij militiamen.
debkafile reported exclusively Friday that thousands of Basij militiamen had just been airlifted from Iran to Syria, establishing an Iranian military presence opposite Israel from Syria as well as Lebanon. They joined a comparable number of Hizballah militiamen fighting for the Bashar regime.
Given the rush of adverse military developments across Israel's northern borders, its operations in Syria and Lebanon are expected to continue and even expand.
This is also indicated by last week's mobilization of thousands of reservists for an event termed by the IDF spokesman "a military exercise" beginning Sunday, May 5 along Israel's borders with Syria and Lebanon.
The spokesman was clearly trying to misdirect attention from Israel's preparations for an important military operation by announcing a routine drill.
debkafile adds: The initial claim by Syria, Iran and Hizballah of ignorance of any Israeli action is unlikely to hold up for long. They might keep up the act if the Israeli strike turned out to be a one-off against a single target – the picture the "Israeli official" tried to present after the event.
But if there is more to come, Bashar Assad, Ali Khamenei and Hassan Nasrallah will not let Israel go unchallenged. This threesome is undoubtedly on the phone at this moment working on their response.
Some of the earlier reports by US media claimed Israeli jets were seen Saturday before dawn circling over Assad's presidential compound in Damascus before moving on to target a weapons site. The Israeli jets reportedly received fire but returned to base unscathed.
Eyewitnesses: Israel Drops 'Nuclear-Type' Bomb On Damascus, 2 Israeli Jets Shot Down, Assad To Declare War On Israel
3:12 pm NZT] RT is citing a local journalist reporting 300 people dead and a total of 4 blasts striking the area.
[3:04 pm NZT] The BBC is currently playing a phone interview to a local journalist(?) of people experiencing a minor earthquake before the blast. In his words this could indicate an underground structure being attacked. This is not confirmed – Just the latest on BBC news
Israeli media: 
2 warplanes lost over
#
syria
 in sorties early Sunday morning. 
#
BREAKINGNEWS
 Major bombing missions on 
#
syrian
 regime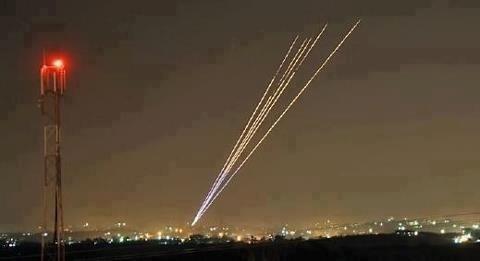 From Occupy Congress:
BREAKING: Eye witnesses in capital city of #Syria say #Israeli military has dropped nuclear-type bomb.pic.twitter.com/pYofymNaMJ
Assad "to declare war" on Israel following fresh airstrikes
Reports suggest that Syria's embattled dictator, Bashar al-Assad, is shortly set to declare war on Israel after interventions against the regime
Following evidence of chemical warfare and an increasinly reticent US position, Israel has in recent days taken widely reported steps to neutralise threats emanating from within civil war-torn Syria.
While strikes from Lebanese airspace this weekend are not thought to have been on chemical weapons caches, the recent Israeli intelligence regarding the use of such weaponry is thought to have spurred on a round of strikes, including the latest just hours ago.
The Syrian state news agency SANA, citing initial reports, said early Sunday that Israeli missiles struck a military research center near the capital Damascus.
Syrian state television has reported that a major strike on an ammunition depot in Qassiyoun mountain shook Damascus, while Hezbollah's Al-Manar station claimed the explosion may have been a downed Israeli jet.
Rumours are surfacing online that following the latest volley of attacks on the Syrian regime, President Bashar al-Assad will soon officially declare war on Israel,
WORLD WEEKEND NEWS NEW UPDATES